The OEE Dashboard is a quick way to view the OEE for your site across a week or month time frame. The dashboard is also useful to compare the OEE of all sites within your company in one location.

The OEE metric is calculated using Availability, Quality, and Performance. The Dashboard gives you a glimpse at each of these metrics as well as the Overall OEE for all sites within your company. You can click into the Site and Area and Line.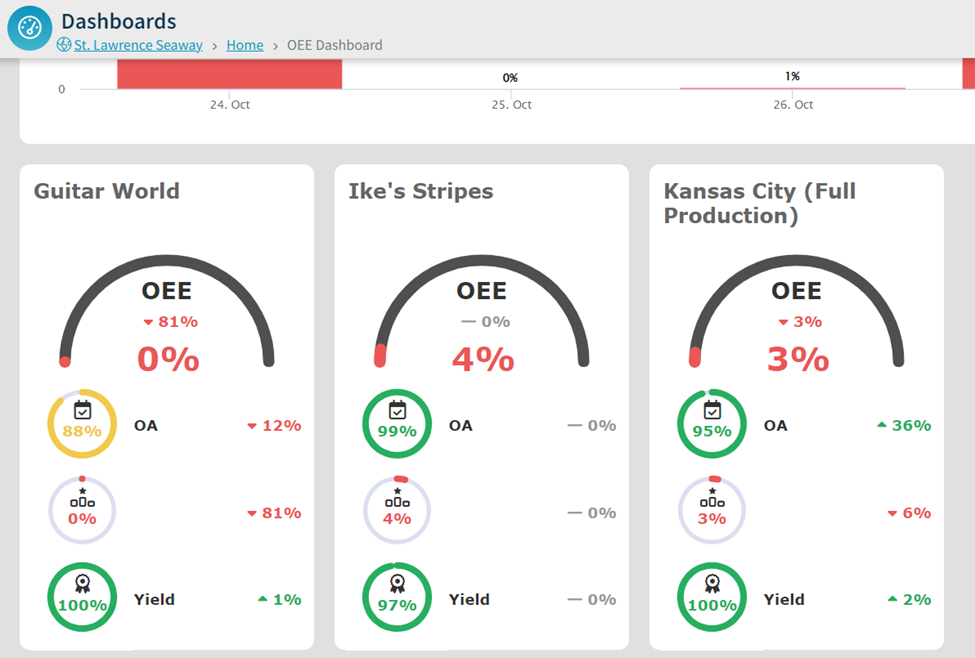 Below the plant specific metrics, you'll find the OEE trend. The trend chart shows a week to week or day to day comparison of OEE for all sites.

You'll notice 'Filters' at the top of the page. The filters allow you to select or unselect sites that you don't wish to see in the Overall metric. The filter also lets you select a date range. Notice you can't go back more than 1 month. Additionally, once you have drilled down, you can use the arrow up to go back to the upper level (Drilled down to Lines, Arrow brings you back up to Areas)

Note: Metrics may appear off if; 1. You don't have threshold standards implemented across all sites. 2. Production start-up times differ for sites across the globe.
Troubleshooting: If you can't see the OEE dashboard for your site; 1. You must be using the Production Module.