Once Categories are defined you can start adding documents
• Go to the Documents Center via the menu tab on the left side of the main screen and click on 'Documents'
• Click 'Add New' located in the upper right corner on the 'Documents' Bar
• Enter document 'Name'
• Select 'Category' (Remember you can assign an approver by category if needed)

• Enter the document 'Description'
• Make sure 'Active' is checked

Link this Document to: This document will be linked by machines.
• Link document to applicable machines from selection lists as needed
Note: When Area(s), Line(s), Machine(s) or Technology(s) are selected it will associate document to machines based on selections. For example, if Line A and Technology Weld are selected the code would apply to all machines on Line A and all machines tied to Weld technology across the entire site. Or if Area(s) is selected it will associate a document with every machine in selected Area(s)
Also to note that if this is a document that will be used in the scheduler, you might not associate it to any machine and let the scheduler pull the document and associate it to the correct dispatch event and machine. An example might be for PM's and Audits.
Automatically Attach To New Dispatch(s):
This document will be automatically attached to any new dispatches that match any of the following criteria. To automatically attach documents to dispatch events based on Area(s), Line(s), Machine(s), Technology(s) and/or Dispatch Type(s) select applicable items from selection lists
• Link document to applicable machines from selection lists
Note: When Area(s), Line(s), Machine(s), Technology(s), etc. are selected it will automatically link document to machine(s) dispatches based on selections. For example, if Line A and Technology Weld are selected the document will be automatically attached to all dispatches for machines on Line A and all machines tied to Weld technology across the entire site. If Dispatch type(s) is selected it will only automatically attach documents to the selected Dispatch Type(s) on selected Lines, Machine and Technologies. If Code Red Dispatch Type was selected along with criteria in the previous example the document would be attached to machines on Line A and Machines in Weld Technology but only on Code Reds events.

• Click 'Save'. This will take you to the Document Update screen
• Click 'Create Revision' to create/add document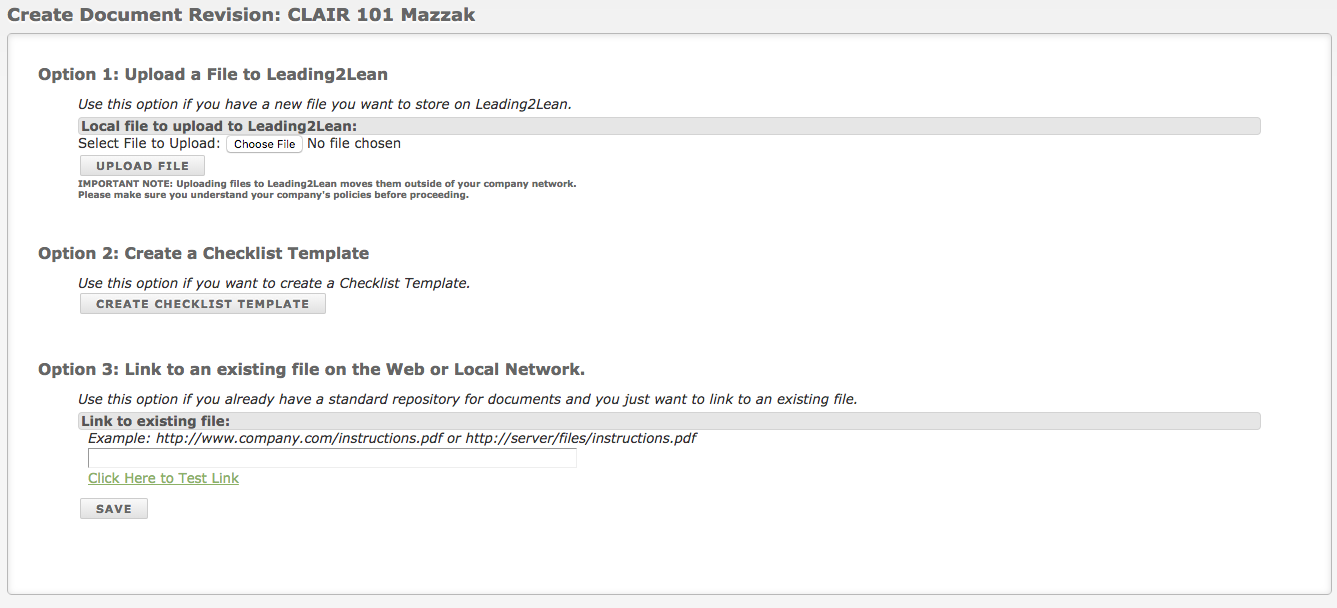 Option 1 – Upload a file to L2L: Use this option to upload a document from local PC to Leading2Lean cloud for storage. Most file types are acceptable including video files under 20-Mb in size.
Click Choose File.
Select File from a Drive location
Click Upload File.
Note: We suggest using PDF format when possible.


Option 2 – Create a checklist Template: Use this option to create user Checklist documents. Checklists are also stored in Leading2Lean cloud.
• Click on 'Create/Edit Checklist' from Create Document Revision screen (above)
• Click 'Edit Template'. For more information on the edit template screen see the article Checklist Edit Template Screen
• Enter a description of Revision changes. If initial revision enter 'Initial Revision'
• Click 'Save as New Revision'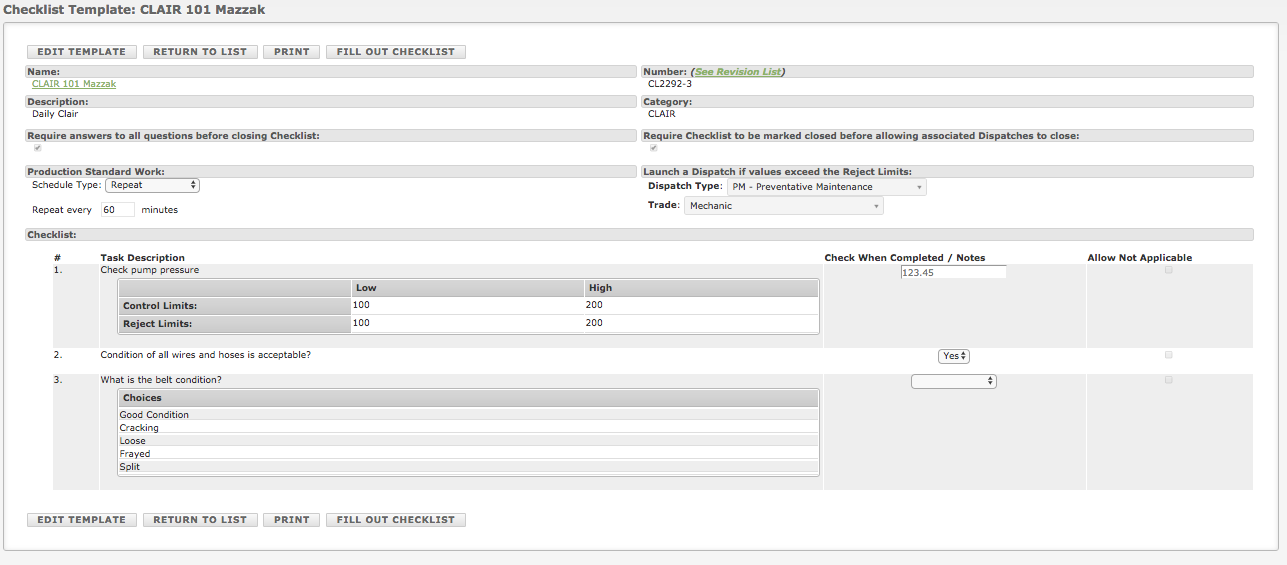 Option 3 - Link to an existing file on the web: Use this option if you already have a standard repository for documents and you just want to link to an existing file or if you'd like to link to a website. This can be helpful for linking to vendor manuals and spec sheets present on a vendor website
(Example: http://industrial.panasonic.com/ww/i_e/25000/minas_a_e/minas_a_e.pdf or to associate to internal document server: \\ server.name\path-to-file). For additional information on linking documents on an internal network see - http://support.leading2lean.com/questions/58/in-document-center-how-do-i-link-to-files-on-my-local-network