Pro Tip: as when searching for any Dispatch, if you are not able to locate that Dispatch, remember to check the "Include Deleted Dispatches" box in the event the Dispatch was inadvertently deleted.
You want to know how to quickly find out who created a Dispatch. There are several ways to go about this, and all of them are easy!
From the Main Dispatch view screen

From your home page, click on CloudDISPATCH
Specify an Area or click ALL
Go to the Main Dispatch view screen
Find Submitted By: in the Comments column

Within each Dispatch

Click on the Dispatch hyperlink od the Dispatch you wish to view to open the Dispatch, then look at Submitted By

Dispatch Change History

At the bottom of every Dispatch is a radial button entitled DISPATCH CHANGE HISTORY
Clicking the Dispatch Change History Button opens up a new window showing you the entire History for that Dispatch, including who created the Dispatch, the time and by whom any changes were made to the Dispatch. Both the name of the individual who created the Dispatch as well as the name(s) of who made edits to the Dispatch are displayed under By on the far right hand side of the page.

Dispatch History Report

There are two ways to use the Dispatch History Report to learn who created each Dispatch. Once you have the Dispatch History Report from either source, the next steps are the same:

You can run a Dispatch History Report by going to the REPORTS menu from your home page.
You can run a 24 hour Dispatch History Report from the Main Dispatch View Screen

From the Main Dispatch view screen, click on 'More' and select Dispatch History from the displayed drop down options to see all Dispatches from the past 24 hours.

You can view 'Submitted By' and/or export the report from here.
You can export the data from the resulting report no matter which of these two ways you generate the Dispatch History Report: 24 hour version, or by filtering your options to return more specific Dispatches.
In the export, look for the column header entitled 'Created_By'

You can then filter the exported data however you like, including 'Created_By'
Main Dispatch view page under Comments column, see Submitted By:
Click on the Dispatch hyperlink to open the Dispatch => see Submitted By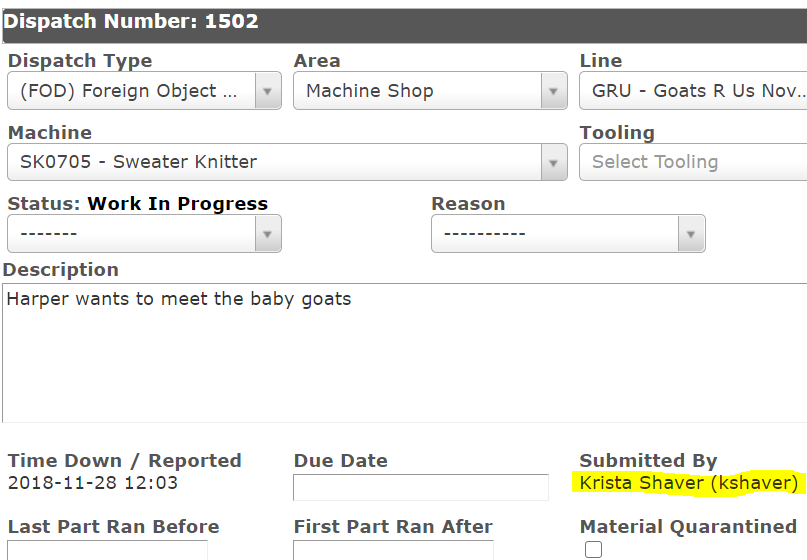 Dispatch Change History button


Clicking the Dispatch History button under the More options will return all Dispatches for the past 24 hours. You can see who created/submitted each Dispatch. You can also export this report and see who created all Dispatches under the column header 'Created_By' in the file.