Event Shadowing allows documents such as checklists to be automatically attached to a Dispatch launched from a schedule in a cascading fashion depending on the current interval of the schedule.
How it works
Example: You wish to conduct monthly, quarterly, semi-annual, and annual maintenance on a machine using PM Dispatches, where each type of maintenance follows a separate checklist. Additionally, you want to track each maintenance type with its own checklist, but keep technicians from having to fill out unnecessary items in checklists.
To accomplish this, setup the schedule and attach the monthly checklist document to the monthly occurrence, the semi-annual checklist document to the semi-annual occurrence, and so forth. Make sure that the "Do Event Shadowing" checkbox is checked when saving the schedule.

Now the system will automatically launch the PM dispatch every month for the first 5 months, with the monthly checklist attached. On the 6th month, Dispatch will launch a single dispatch for both the semi-annual and monthly PM tasks, and will have both the semi-annual checklist and the monthly checklist attached. The 7th month will go back to having just the monthly checklist attached to the dispatch. The 12th month dispatch will be for all three occurrence types, and will have the annual, semi-annual, and monthly checklists attached.
Note: If after setting up your schedule and you use event shadowing and you want to start with the semi-annual schedule first, you can select the next occurrence and select the semi-annual and adjust your dates accordingly.
You must save the schedule first then come back in and complete this step. Also, the machine cannot have a launched dispatch to pre-select the starting schedule.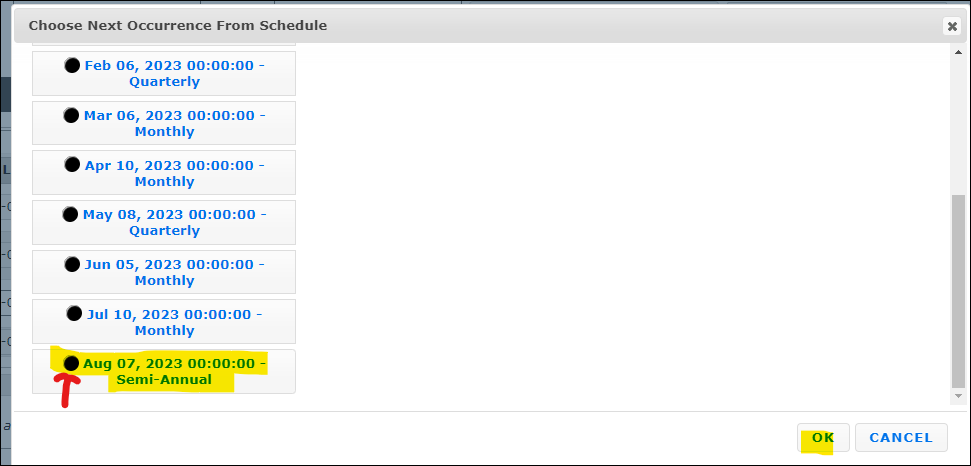 Note: If you are looking to start with an annual in your setup of event shadowing, you will need to go into the scheduler settings to increase your # Days to project schedule to 730 to capture two years.
Now you can follow the steps above to pre-select the annual schedule. You may have to wait overnight for the system to make the change from 365 days to 730 days.

Setup Tips
Create your dispatch checklists for each interval.
In order to use event shadowing all events within the scheduler will need to use the same interval type. (example: Monthly, weekly, daily, etc.)
Once you have selected your interval type, select the various intervals you wish to schedule.
Assign the appropriate documents/checklists to the various intervals and populate estimated times.
If you find the pattern is out of sequence you can change the next occurrence interval in the edit schedule screen, by clicking the next occurrence button on the individual machine.