Production Target is a setting that you can enable in the Production settings that allows you to measure your productivity against the ideal line cycle time vs. the demand feature, which may or may not use the ideal line cycle time when scheduled.
How it works
The system is looking at some factors to determine what the target value should be for each pitch:
Is the pitch active
What is the operator count for this pitch
What is the actual product running this pitch
What is the cycle time for the actual product and for the operator count for the line/cell
We then use these known values to determine the target quantity value to post in the pitch.
Described below are some specifics of the types of production planning you may utilize. Along with these Production Planning specifics is a key point to the target quantity. You will notice that it can change throughout the pitch depending on certain factors like downtime and operator count.
In order for Target to be calculated correctly, Cycle Times must be defined in the Line Cycle Times section of CloudDISPATCH.
E-Kanban: If you are using the e-kanban order functionality when you schedule orders, it will automatically reference the product-specific cycle time for the various orders. It will then set the target based on the available pitch minutes with the ideal cycle time. If you don't have product-specific cycle times, you must have at least one for "all products" so that it will know what cycle time to use.
Production without E-Kanban: If you would like to use the target column but aren't using e-Kanban, you will still need to have cycle times set up for either all products or specific products. When pitches are scheduled, they will default to the predefined "All Products" cycle time. But the product can be changed when you save the individual pitch record to reflect a specific product cycle time target if applicable.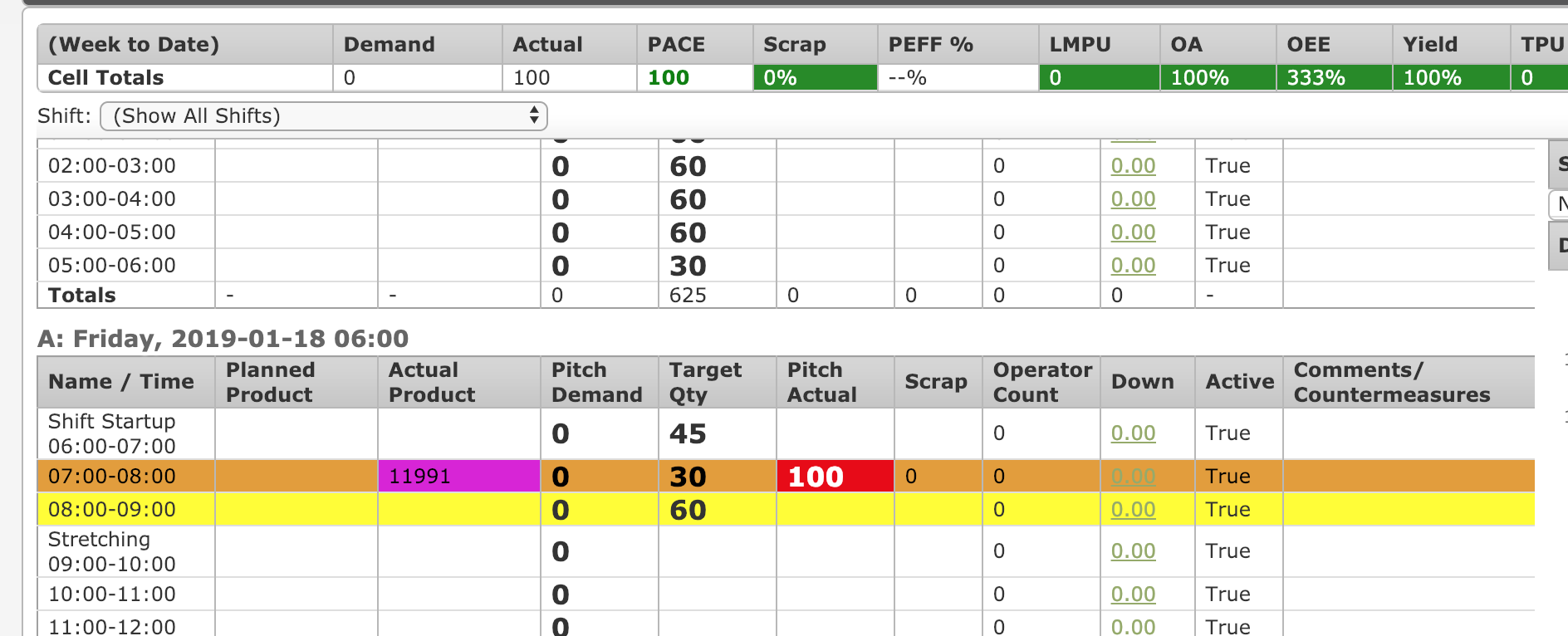 Key Point: The Target will take out the downtime when calculating the true target. Therefore, if you have a 30 second cycle time, you should make 120 parts in a typical 60 minute pitch. If you have 15 minutes of "impacting" downtime in a 60 minute pitch, the system will reduce your target for the pitch to 90 when the pitch is saved.