In order to see Pitches on the Operator Portal, you need to have a Pitch Schedule Template loaded for the Line. You can only load a schedule if you have a template setup. If you haven't created a pitch schedule template yet, see this article.
From the Production Menu, navigate to Pitch Schedule (alternatively, you can navigate to the Operator Portal for the Line you wish to load a schedule for and use the 'More' button).
Choose from the Area and Line from the dropdowns and select 'Load'. You will be presented with a pop-up window.
If you know this schedule is being used on multiple Lines in this Area, you can select multiple Lines from the first dropdown to load simultaneously.
The next dropdown gives you the option to load the schedule for a single day vs. a broader date range.
Next, you have the option to load demand and the same time as loading the schedule. Note: The pitch demand entered is for the entire selected date or date range and will be split across different pitches. Each pitch's demand is pro-rated by the production minutes per pitch.
Hit 'Load'.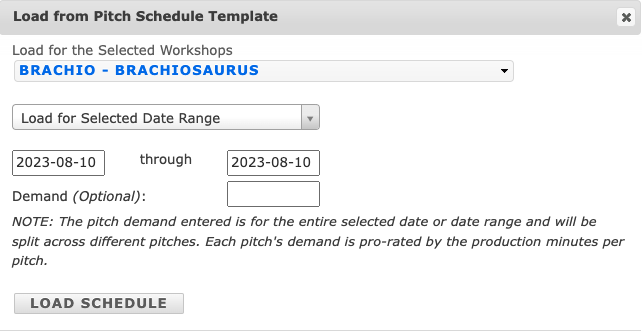 Pro-Tip: You can also copy the loaded schedule to other Areas & Lines from this same page.