These are two of the more traditional maintenance metrics often used to measure how reliable a process is and how responsive your organization is at making repairs. They are good indicator metrics over time, but may not be the best metrics for daily continuous improvement.
Definitions and Calculations
MTBF: Mean Time Between Failure
Total Uptime / Number of Failures
This can also be written as: ∑(start of downtime - start of uptime) / Number of Failures
For example, if you had a Time period of 14,000 minutes, with 12,250 minutes of uptime, MTBF would be 12,250 / 7 = 1750 minutes.
MTTR: Mean Time To Repair
Total Down Time / Number of Failures

For example, if you had 7 dispatches down for a combined 700 minutes would have an MTTR of 100 minutes. 700/7
Helpful Tips
In the MTBF\MTTR report, the date range for those machines with multiple dispatches and the calculation for the average uptime is:

(total time of machine - total dispatch downtime) / (dispatch count +1)

The date range measures are from when the machine went into service (or your L2L start date) until the "as of date" you populate in the report form.

If there are no dispatches then this is the total time from the start date of the report or the deployed/created date of the machine until the end date of the report or now.

MTBF is not an ideal metric for short durations of time such as weeks or a month, especially if the assets have only a few breakdowns. The reason is that the sample size will be too small to generate an accurate metric.
These metrics are good for trending over long periods of time to see if you are improving or to course correct if your metrics are slipping.
We have found that often MTBF can be confusing for some, and people respond more favorably to measuring breakdown occurrences over fixed time periods. It is similar data, just presented differently. For example, in one month you have 10 breakdowns on a machine and your MTBF is 3 days. If you only have 5 breakdowns the next month, your MTBF is now 6. We have found that it is easier to understand measuring actual number of breakdowns rather than to calculate MTBF.
You can select a date range in the MTTR/MTBF Report, but keep in mind that this is limited to non-simultaneous Dispatch Types.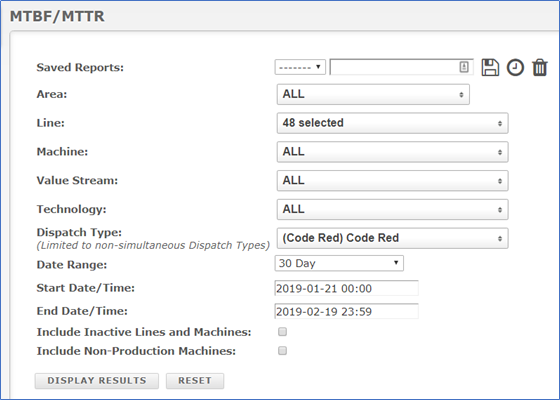 Keep in mind that fixing machines faster, but not making permanent or root cause fixes is not an improvement. If your MTTR is reducing but you're seeing a negative impact to MTBF or an increase in number of occurrences, you may want to reconsider your strategy.
We also display MTTR "excluding wait time" as this is the best way to see how much actual wrench time you have vs. the travel or wait time.
Resources