What do you do with the L2L accounts for people who are inactivated for some reason? They might be off for medical reasons, on an extended sabbatical, or part of a temporary reduction in force. There is a good probability that they may return to work, and you want to be able to reactivate them when that happens.
Whether the situation is temporary or 'permanent', employee L2L accounts can be inactivated individually or by mass edit via upload. The mass upload to edit employee L2L accounts is performed by L2L Support.
Initial, temporary passwords can be mass uploaded via import for new associates along with their name, username, email address, etc. New users will be forced to change their temporary password the first time they log in to L2L.
However, please note that one item that cannot be edited via upload for existing employees is their password.
To edit existing user account details, we recommend this approach:
First, export the records for those employees whose status you wish to edit.

Indicate that their status is 'FALSE' in the ACTIVE column of the export. Please also be sure to include that comment in your ticket to L2L Support.

We will then upload the edited file. These employee L2L accounts are now inactivated, with the majority of their user profile information intact and archived.

There are a couple of exceptions: User Roles and Shift details are not retained as these are unknown while the employees are inactive, and may change.
At such time as inactivated employees return to work, they can simply be reactivated again. This can be done manually, one employee at a time, or en masse via upload by L2L Support. Again, the majority of the details in their profiles remain intact.

Employees who have Admin level access in L2L, as well as L2L Support, can take care of manual account edits. The individual record changes are easy for L2L Admins whereas any mass updates should be directed to L2L Support personnel.

Many L2L customers incorporate inactivating associate L2L accounts as part of their exit process. I.e., part of the outgoing HR process.

As a reminder, when you inactivate a Resource in L2L, they are removed from all Scheduled events, such as PMs. That is so you have visibility to this and so that Scheduled Events are not left unstaffed.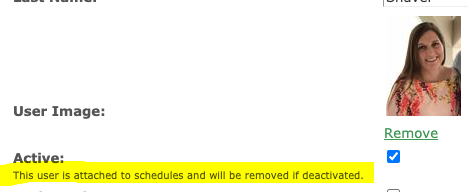 As always, please do not hesitate to contact us with any questions. Support@L2L.com