Rework / Reject (Scrap) Types (formerly referred to as categories) allow you to capture different types of scrap on a production line when entering pitch details. If you don't have scrap types set up, scrap will only be tracked in one bucket or group by default. Types allow you to break out the Rework / Reject / Rerun into specific types. This is particularly helpful when you have large amounts of scrap and you want to see the biggest scrap contributors in our Scrap Type Pareto Report.
Go to the Production tab > Scrap Types.
Click 'Add New' located in the upper right on the grey toolbar.
Enter a Code.
Enter a Name.
Ensure Active is checked
Type: Reject: the part is thrown out. Rework: can put in additional work to the part. Rerun: run through the machine a second time; i.e. re-measuring a part. (no additional work done).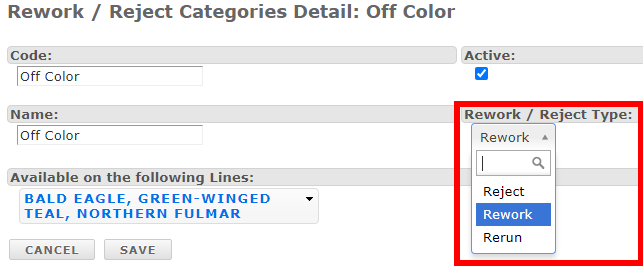 Select the 'Lines' that the Scrap Type will be used on. You can select all.
Select 'Save'.
Note: Make sure Scrap Types are enabled for the lines you intend to use Scrap Types on. To do so, you'll go into the Setup > Lines and check 'Enable Collection of Scrap Numbers by Type'. You'll also see you can add scrap types to the line from the line setup menu as well.